RM-800 Contrast Sensitivity Function Tester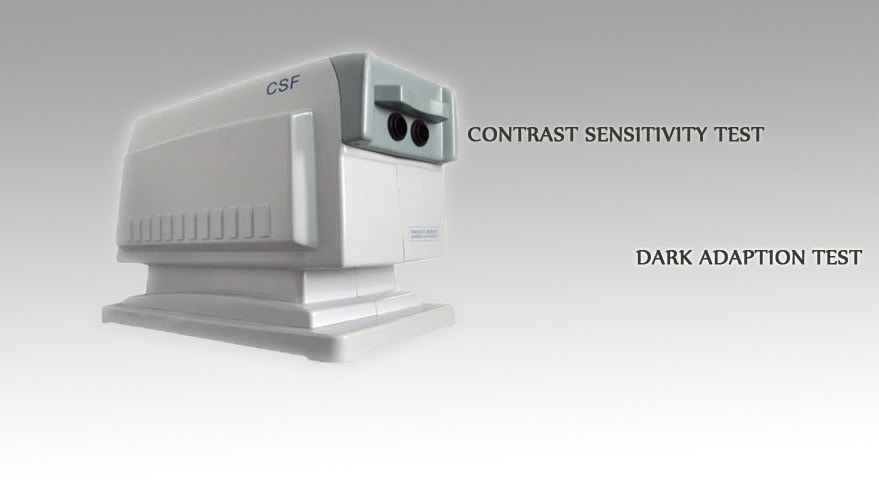 RM-800 Contrast Sensitivity function tester, the third generation product of contrast sensitivity series in Wenzhou Raymond Tech. Co.Ltd, has a series of authentic data ,which is widely used in clinical medicine and scientific research. As a detecting vector, RM800's data is not only published in domestic journal articles, but also published in international core journal paper of SCI series.
Main functions:
1:Contrast sensitivity function test(CS).
2:Dark adaptation test.
3:CS range diagram.
4:Long/short distance contrast sensitivity test.
5:Light/dark environment sensitivity test.
Main clinical applications:
1:Test human eyes' CS function in different luminance and contrast;Apply to excimer operation and IOL.
2:Necessary in Dark adaptation test, eye test of sailors and drivers, and physical examination.
3:Sensitive to glaucoma, macula disease, diabetic retinopathy, optic nerve diseases and amblyopia.
4:Light/dark environment and long/short distance contrast sensitivity test.
1:Spatial frequency range: 1.8;3;6;12;18;24(Unit:CPD)
2: CSrange:1%-100% 9gears
3:Simulation test distance: Distant(Standard) 5m Close 400mm
4:Simulation environment test: Light environment(Standard) Dark environment
5:Test-object form: Sinusoidal grating test-object
6:Dark adaption test: Standard 5OS, 6 gears can be chosen
7:Power supply:
Input voltage 220V
Input frequency 50/60Hz
Input powe 60VA
8:Size 520x 280x 420 mm
9:Weight 15KG